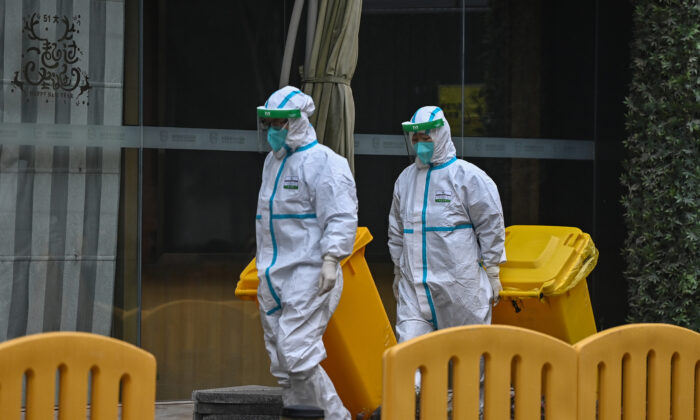 Epoch Times: https://www.theepochtimes.com/who-investigators-say-ccp-virus-was-circulating-widely-in-wuhan-by-late-2019_3697310.html?utm_source=ChinaDaily&utm_medium=email&utm_campaign=2021-02-16
An investigator with the World Health Organization (WHO) said the CCP virus was "circulating widely" in Wuhan, China, in late 2019.
Lead WHO investigator Peter Ben Embarek told CNN that his team found signs of a wider outbreak in the Hubei Province city in late 2019, noting that there were at least 13 strains of the CCP (Chinese Communist Party) virus, or the novel coronavirus that causes the disease COVID-19, around Wuhan by late 2019.
"The virus was circulating widely in Wuhan in December, which is a new finding," he added, saying that around 1,000 people may have been infected at that time. "Some of them are from the markets … some of them are not linked to the markets," he said.
"There [are] about 200,000 samples available there that are now secured and could be used for a new set of studies," Ben Embarek said. "It would be would be fantastic if we could [work] with that."
The new report adds to a growing body of evidence that the CCP covered up the origins of the virus and its severity during the start of the pandemic. Human rights activists have expressed concern about how CCP officials moved to silence doctors and other whistleblowers in Wuhan last year.
The CCP didn't report on the COVID-19 outbreak until Dec. 31, 2019, to the country's WHO office—amid speculation that a new virus was circulating in the country. On Jan. 14, 2020, the WHO passed on a CCP-backed declaration that there was "no clear evidence of human-to-human transmission" of the virus, triggering criticism against the United Nations-backed health organization.
Ben Embarek was at the center of some controversy last week when he said that a theory the virus leaked from Wuhan-based virology lab does not require more investigation. Days later, WHO Director-General Tedros Adhanom Ghebreyesus on Feb. 12 appeared to walk back that claim and said more investigation is needed.
"The independent expert team to study the origins of the COVID-19 virus has completed its trip to China … The expert team is still working on its final report, and we look forward to receiving both the report and a full briefing," Tedros remarked, while adding that the investigation has "been a very important scientific exercise in very difficult circumstances."
He went on to say, "Some questions have been raised as to whether some hypotheses have been discarded. I want to clarify that all hypotheses remain open and require further study."
A report from The Associated Press stated that Ben Embarek and other WHO officials were tightly controlled by the CCP during their visit to Wuhan.
This prompted Gordon Chang, author of "The Coming Collapse of China" and notable China critic, told The Epoch Times that the mission was designed to fail.
"This is a parroting of a Beijing narrative," Chang told The Epoch Times' "American Thought Leaders" program. "This just shows you that the WHO mission is completely worthless—actually is worse than worthless because it's throwing people off the trail."