The Personal Current Transfer Receipts (PCTR) report summarizes government social benefits and net current transfer receipts from business (unemployment).
Simply put, it's government welfare. And that welfare is behind the record surge in personal income in March when China Joe, the Sock Puppet "president," distributed $1.9 trillion in "stimulus checks".
March PCTR payments ballooned to a mind-blowing $8.1 trillion annualized. That was more than double the Sock Puppet's $4.1 trillion payout in February, and $5 trillion above the pre-Covid trend of ~$3.2 trillion.
When you back out the PCTS, personal income remains unchanged from a year ago.
So much for China Joe's claims of "restoring the American economy".
In longer-term context, one can see the creeping impact of government payments, shown in red below.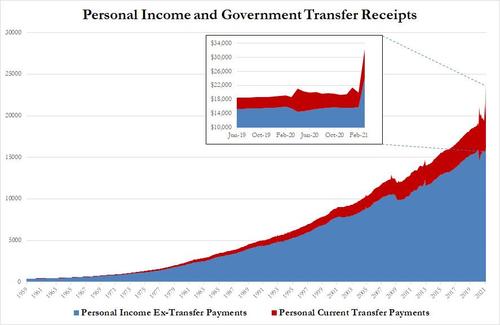 Now, check out the savings rate.
You know where a lot of the dough is going – besides "China Inc." imports sitting at anchor of Long Beach). GME anyone?
The bottom line – government (cough – other people's money – cough) is now responsible for 33.8% of total income – and rising fast.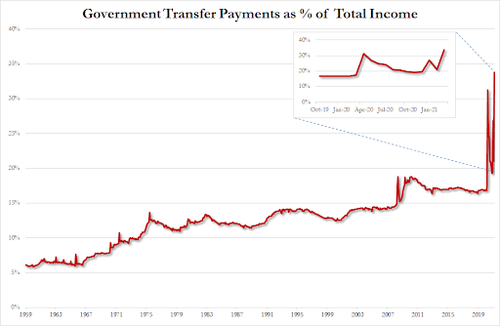 Don't think the Oligarchs are paying this welfare. With Federal Reserve inflation and ever-rising debt (Federal and private), the middle class is paying for the Sock Puppet's give-away.
As the Oligarchy pockets their taste from debt and China, the State has driven down America's share middle-income households.
We're now a "banana republic like Turkey, China, and Russia.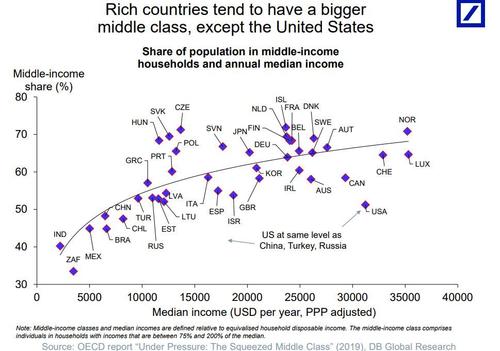 In fact, most countries have a larger middle class than the US.
35 years of Federal Reserve policies got you there.