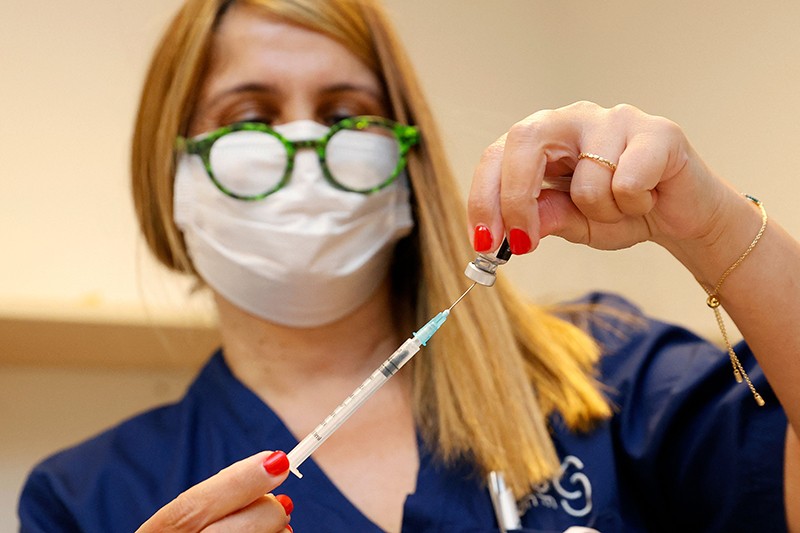 It depends on post-vaccination antibody level.
Nature: doi: https://doi.org/10.1038/d41586-021-02096-3
People fully vaccinated against COVID-19 are less likely to become infected with the coronavirus if they have relatively high levels of virus-blocking antibodies, according to a study of thousands of health-care workers who received the Pfizer–BioNTech jab1.
The analysis adds to a growing body of evidence that a person's levels of 'neutralizing' antibodies, which block SARS-CoV-2 from infecting cells, predict whether that person will become infected.
A robust predictive marker, known as a correlate of protection, could help regulators to approve new vaccines without requiring large clinical trials. It could also help them to assess the need for booster shots to guard against emerging viral variants. The study "is an important step in further validating the use of neutralization titre as a correlate of protection", says Miles Davenport, an immunologist at the University of New South Wales in Sydney, Australia.
When SARS-CoV-2 breaks through
The study, published in The New England Journal of Medicine on 28 July, draws on data from almost 11,500 fully vaccinated health-care workers at Sheba Medical Center near Tel Aviv, Israel. Extensive testing between late January and late April 2021 identified 39 workers who had become infected with SARS-CoV-2 despite being fully vaccinated. All had mild symptoms or none at all, but 19% still had some symptoms 6 weeks after diagnosis.
For 22 of the 39 workers with 'breakthrough' infections, the authors were able to obtain antibody measurements taken either on the day the infections were detected or in the week before. The researchers also examined data from 104 fully vaccinated workers who matched infected workers for factors such as age but who did not get infected. Comparison showed that levels of neutralizing antibodies were lower among those who got infected — providing the first direct evidence of this effect, says Davenport.Six months of COVID vaccines: what 1.7 billion doses have taught scientists
The results bolster earlier data collected during clinical trials of the Oxford–AstraZeneca vaccine. Analysis of those data also showed a link between higher levels of neutralizing antibodies and a lower likelihood of breakthrough infection2. But the difference in antibody levels between trial participants who had breakthrough infections and those who didn't was not statistically significant.
The latest study does have drawbacks. It is based on a small number of cases among young and healthy adults, which limits its application, says Andrew Fiore-Gartland, a biostatistician at the Fred Hutchinson Cancer Research Center in Seattle, Washington. More studies from vaccine trials are expected soon, he says.
And the analysis does not provide a specific level of antibodies that is associated with protection, say researchers. Such a threshold of protection "is what the field really needs to move forward", says Fiore-Gartland.
doi: https://doi.org/10.1038/d41586-021-02096-3
References
1.Bergwerk, M. et al. N. Engl. J. Med. https://doi.org/10.1056/NEJMoa2109072 (2021).Article Google Scholar
2.Feng, S. et al. Preprint at medRxiv https://doi.org/10.1101/2021.06.21.21258528 (2021).