And a big thanks to American taxpayers – you paid for it, and ~ half of you voted for it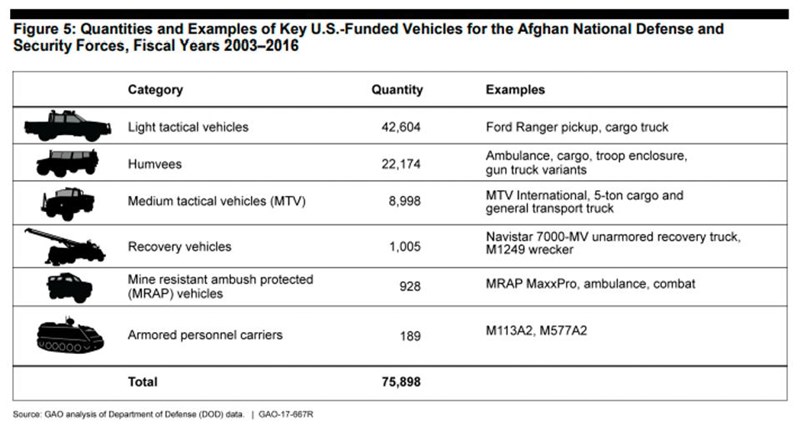 OpenTheBooks: https://www.openthebooks.com/forbes-staggering-costs–us-military-equipment-left-behind-in-afghanistan/
The U.S. provided an estimated $83 billion worth of training and equipment to Afghan security forces since 2001. This year, alone, the U.S. military aid to Afghan forces was $3 billion.
Putting price tags on American military equipment still in Afghanistan isn't an easy task. In the fog of war – or withdrawal – Afghanistan has always been a black box with little sunshine.
Not helping transparency, the Biden Administration is now hiding key audits on Afghan military equipment. This week, our auditors at OpenTheBooks.com reposted two key reports on the U.S. war chest of military gear in Afghanistan that had disappeared from federal websites.
#1. Government Accountability Office (GAO) audit of U.S. provided military gear in Afghanistan (August 2017): reposted report (dead link: report).
#2. Special Inspector General For Afghanistan Reconstruction (SIGAR) audit of $174 million in lost ScanEagle drones (July 2020): reposted report (dead link: report).
U.S. taxpayers paid for these audits and the U.S.-provided equipment and should be able to follow the money.
Furthermore, unless noted, when estimating "acquisition value," our source is the Department Logistics Agency (DLA) and their comprehensive databases of military equipment.