We know the United States has long engaged in dangerous experiments offshore. Under Dr. Anthony Fauci's direction, the US government enriched his corporate and research cronies with grants to conduct dangerous gain-of-function experiments offshore. More likely than not, related experiments at the Wuhan Institute of Virology set loose a murderous pandemic.
So, should we be surprised that Hunter Binden, point main for "Biden Inc.", takes a cut of research involving dangerous pathogens in Ukraine — the country Joe Biden ran under Barack Obama?
Just as we can count on US media to dismiss Biden's Laptop as "Russian disinformation", count on them to bury the Ukraine biolab story.
So, here is RT – a Russian media company taking Russian Federation money – and their story about US biolabs.
RT: https://www.rt.com/russia/552177-ukraine-biolabs-weapons-military/
Russia presents new evidence from US-funded Ukraine biolabs
Pentagon-backed facilities made "biological weapons components" and tried to cover it up, Russian military says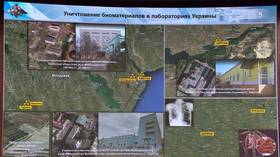 Materials relating to the military biological activities of the United States in Ukraine which were presented by Lieutenant General Igor Kirillov are seen on a screen during a briefing in Moscow, Russia.
Moscow believes that laboratories in Ukraine funded by the US military were making biological weapons components, but that local staff was being kept in the dark about their research, a senior Russian general said on Thursday.
Lieutenant-General Igor Kirillov, who commands the Nuclear, Biological and Chemical Protection Forces of Russia, presented documents and imagery showing why the military has come to such a conclusion.
"We believe that components of biological weapons were being made on the territory of Ukraine," said Kirillov.
He noted that the documents he was presenting "have the signatures of real officials and are certified by the seals of organizations," for those journalists and experts in the West doubting their veracity.
One document, dated March 6, 2015 confirms the "direct participation of the Pentagon in the financing of military biological projects in Ukraine," Kirillov said. The US officially funded the projects through the Ukrainian Ministry of Health, according to the Agreement on Joint Biological Activities. However, the evidence shows that the real recipients of some $32 million in funds were Ukrainian Defense Ministry laboratories in Kiev, Odessa, Lvov and Kharkov.
READ MORE: Russia promises more disclosures on Ukraine biolabs
These facilities were chosen by the US Department of Defense's Threat Reduction Administration (DTRA), and the contractor Black and Veatch, to carry out the U-P-8 project, aimed at studying the pathogens of Crimea-Congo hemorrhagic fever, leptospirosis, and hantaviruses, Kirillov said, pointing to a slide with the Pentagon's request.
"From our point of view, the interest of US military biologists is due to the fact that these pathogens have natural foci both in Ukraine and in Russia, and their use can be disguised as natural disease outbreaks," the general said.
According to the evidence, the labs isolated three bacterial pathogens (causing plague, brucellosis and leptospirosis) and six families of viruses, including coronaviruses, all of which were drug-resistant and spread rapidly from animals to humans. A number of documents confirmed the samples taken in Ukraine to other countries – Georgia, Germany, and the UK.
Kirillov showed official documents confirming the transfer of 5,000 samples of blood serum taken from Ukrainian citizens to the Pentagon-backed Richard Lugar center in Tbilisi, Georgia. Another 773 biological assays were transferred to the UK, while an agreement was signed for the transfer of "unlimited quantities" of infectious materials to the Friedrich Loeffler Institute, Germany's leading center for animal diseases.
READ MORE: US-funded labs in Ukraine dealt with bat coronavirus, Moscow claims
However, the analysis of the obtained evidence suggests that Ukrainian specialists were not aware of the potential risks of transferring these materials, and may have been kept in the dark about the true goal of the ongoing research, Kirillov noted.
Documents from Project P-781, a study of ways of transmitting diseases to humans through bats, showed it was carried out by the Kharkov laboratory and the Lugar Center in Georgia, but Ukraine received most of the $1.6 million grant for the project. Kirillov said that "systematic" research in this area has been carried out since 2009, under the supervision of US specialists – referencing projects P-382, P-444 and P-568.
As one of the key people involved, Kirillov named the head of the DTRA office at the US Embassy in Kiev, Joanna Wintrol.
"Maybe she's worth talking to, journalists?" he said.
Wintrol left Kiev in August 2020. In her parting interview, she insisted no US scientists worked in Ukrainian biolabs and accused Russia of spreading "false information" about the program.
Kirillov pointed to mass outbreaks of avian flu in Russia and the EU in 2021, causing billions in damages, while the Kharkov Institute of Veterinary Medicine was studying wild birds as transmission vectors and assessing conditions under which the spread could cause economic damage and food insecurity. Evidence now shows the institute collected strains of avian flu capable of jumping species, Kirillov said, calling for an international investigation into the matter.
READ MORE: Russia claims Ukraine destroying evidence of US-funded bioweapons program
Some of the documents at the Kherson laboratory appear to be missing and may have been destroyed, Kirillov said, suggesting it was related to the 2018 outbreak of a mosquito-borne parasitic disease in that region, and a possible cover-up.
Four cases of dirofilariasis were detected in February that year, which is not typical for mosquito life cycles, the general said. Pentagon representatives visited the local hospitals in April, collecting medical records and getting briefed on the epidemiological investigation. However, "no documentary evidence regarding this outbreak has been found in the Kherson laboratory," leading the Russian military to believe that "the urgency of destroying such documentary evidence is explained by the desire to prevent access to them by Russian specialists."
There was also an outbreak of drug-resistant tuberculosis in 2018, among the citizens of the Donetsk and Lugansk People's Republics, with 70 cases detected around the village of Pesky – on the frontline with Ukrainian troops – alone.
"This may indicate a deliberate infection, or an accidental leakage of the pathogen from one of the biological laboratories located on the territory of Ukraine," Kirillov said.
The Russian general brought up the long history of US conducting banned biological research in other countries, noting as an example that in 2010 Washington apologized for syphilis experiments in Guatemala.
"We will continue to examine the evidence and inform the global community about the illegal activities of the Pentagon and other US government agencies in Ukraine," Kirillov said.
***************************************************************************************************
Great Game India picked up their own thread: https://greatgameindia.com/list-americans-bioweapons-biolabs-ukraine/
List Of Americans Coordinating Bioweapons Research At Pentagon Biolabs In Ukraine
April 1, 2022
Russian military uncovered US-operated biolabs in Ukraine while conducting a special operation in the nation. Some very interesting findings in the form of list of Americans coordinating bioweapons research at Pentagon biolabs in Ukraine have been revealed as well.
On Thursday, the Russian Ministry of Defense (MoD) released new files procured by Russian forces in eastern Ukraine, which include communications between American financier Hunter Biden – the son of US President Joe Biden – and figures engaged in biological research in Ukraine that his investment company aided in financing.
The documents revealed an intent to create a "Central Depository of Especially Dangerous Microorganisms in Kiev," according to Russian MoD spokesperson Maj. Gen. Igor Konashenkov, as well as ways to distribute biological agents via drone.
The emails disclosed the identities of numerous key American leaders from Metabiota and Black & Veatch, and also officials from the US Defense Threat Reduction Agency (DTRA), who were involved in biological research initiatives. Those named include:
Robert Pope
From 2017 to 2020, Pope served as the DTRA's deputy director of operations, readiness, and exercises. He formerly worked at the Pentagon, the US Air Force European Command (USAFE), and the US Central Command (USCC). Pope was essential in the creation of radiochemical methods for monitoring international nuclear weapons treaties (Air Force Technical Application Center).
Between 2016 and 2019, Pope corresponded with Ukraine's acting health minister, Ulana Suprun, an American-born Ukrainian who travelled to Ukraine to take part in the US-backed revolution in 2014.
Rhys M. Williams
Williams, who was formerly the agency's director of development, test, and evaluation, ended up taking over for Pope as acting DTRA director in 2020. He oversaw the Pentagon's project to establish capabilities for detecting, locating, and neutralizing foreign weapons of mass destruction and improvised explosive devices. Williams was also Assistant Deputy Administrator for Nonproliferation at the US Department of Energy's National Nuclear Security Administration (NNSA), which is in charge of the country's nuclear arsenal.
Joanna Wintrol
At the Defense Threat Reduction Office of the US Embassy in Kiev, Wintrol oversaw DTRA programs in Ukraine until 2021.
According to emails released by the Ministry of Defense, she oversaw projects such as the UP-2 Project for "mapping highly infectious diseases in Ukraine," including anthrax; the UP-4 Project for "risk assessment of particularly dangerous pathogens transmitted by birds in Ukraine during migration"; and the UP-8 Project for studying "spread of Crimean-Congo hemorrhagic fever virus and hantaviruses in Ukraine and the potential need for differential diagnosis of patients with suspected leptospirosis." She also headed Project P-782, which investigated disease transmission through bats, according to previously disclosed records.
In early 2021, Wintrol switched to Chemical Security and Elimination (CSE). CSE was previously known as the Chemical Weapons Elimination (CWE) and Chemical Weapons Destruction (CWD) programs, according to a DTRA document. The effort "started in 1992 to build the capacity of the states of the Former Soviet Union (FSU) to reduce the threat from chemical weapons (CW) by securing and eliminating CW stockpiles, chemical research capabilities, and production facilities, while also redirecting scientists to peaceful purposes," the agency said.
Steven L. Edwards
Edwards has been the CEO of Black & Veatch, an American engineering business that has long been a Pentagon contractor for a range of building projects, since 2013. He joined the firm in 1978 and previously served as its Chief Operating Officer.
Black & Veatch has long been known to collaborate on Pentagon initiatives in Ukraine, but records procured by Russian forces earlier this month divulged the company's role in supervising biological programs in the country, including the UP-8 project, which analyses Crimean-Congo hemorrhagic fever, leptospirosis, and hantaviruses.
Lance Lippencott
Since 2011, he has served as the project manager and biological project coordinator for Black & Veatch in Ukraine. He informed the Kansas City Business Journal in August 2021 that his efforts in Ukraine on airborne biological agents had aided Black & Veatch in developing a system for cleaning air of SARS-CoV-2 virus particles, the pathogen that induces COVID-19. Lippencott is a West Point graduate of the United States Army Military Academy.
A report from Ukraine's Kherson region's Security Service was included in one of the papers disclosed by the MoD, and it mentioned "a potential threat to the epidemiological and epizootic situation in our country that has recently come to light as a result of DTRA's intentions through Black & Veatch to establish control over the functioning of Ukrainian microbiological laboratories that conduct research into particularly dangerous pathogens that can be used to create or upgrade new types of biological weapons."
Another paper addressed to the Ukrainian Ministry of Defense by Lippencott addresses the extension of the UP-8 project previously described.
David Mustra
"Issues of biomonitoring and transfer of information were supervised by David Mustra, who is closely associated with another Pentagon contractor, Metabiota," Konashenkov said. "Previously, he led military bio-projects in Ukraine and Eastern Europe as part of the Cooperative Threat Reduction Program."
Mustra was the firm's biosafety recruitment manager in Ukraine, as well as the biosurveillance and control managers and the research and development director.
Mary Guttieri
Guttieri, who holds a doctorate in microbiology from UMass Amherst, served as Metabiota's Executive Vice President from 2014 to 2019, and was formerly the company's Vice President of Technology and Science Administration. At Labyrinth Global Health, she has become the head researcher.
Guttieri was the integrator of research programs for the US biology program in Ukraine, and she oversaw the implementation of biological programs involving the study of animals as disease vectors.
Nita Madhav
Since 2019, Madhav has led Metabiota as its CEO. With a PhD in Public Health, she focuses in epidemiology and pandemics. The Russian Ministry of Defense, on the other hand, claims that there was no evidence in the records that she was in charge of any particular biological activities in Ukraine.
Scott Thornton
Between 2006 and 2016, Thorton worked for Metabiota as a senior microbiologist and lab start-up coordinator. He served as a research microbiologist and the chief of the Navy's Threat Assessment Department for the past 20 years in the US Navy. Thornton "conducted research on disease agents of military relevance, especially enteric pathogens" at covert sites, as per his CV, one of which is in Cairo, Egypt.
Thornton advised local workers in DTRA projects in Ukraine on extremely hazardous pathogens and other epidemic disease-related concerns, and organized the update of reference labs in Ukraine to biosafety level 3 (BSL-3), which can be used to research contagious agents or toxins that can be spread via the air and induce potentially deadly infections.
*********************************************************************************************
Lastly, there's this RT update – you decide: https://www.rt.com/russia/553067-ukraine-biolabs-hunter-biden-documents/
Russia presents new evidence on Ukraine biolabs, comments on links to Biden and US
Documents detail fate of US-funded deadly pathogens that may have been tested on Ukrainians
The Russian military has presented documents showing Ukraine's interest in using drones to deliver weaponized pathogens developed in US-funded biolabs. Names of US officials involved in the biolabs projects, and the role the current US president's son played in the program, were also made public during the special briefing on Thursday.
One of the key pieces of evidence was a letter from the Ukrainian company Motor Sich to the Turkish drone manufacturer Baykar Makina – makers of the Bayraktar TB2 and Akinci UAVs – dated December 15, 2021. The Ukrainians specifically asked if the drones could carry 20 liters of aerosolized payload to a range of 300 kilometers – putting them in range of a dozen major Russian cities and almost all of Belarus.
"We are talking about the development by the Kiev regime of technical means of delivery and use of biological weapons with the possibility of their use against the Russian Federation," said Lieutenant General Igor Kirillov, commander of the Russian Nuclear, Biological and Chemical Protection Forces.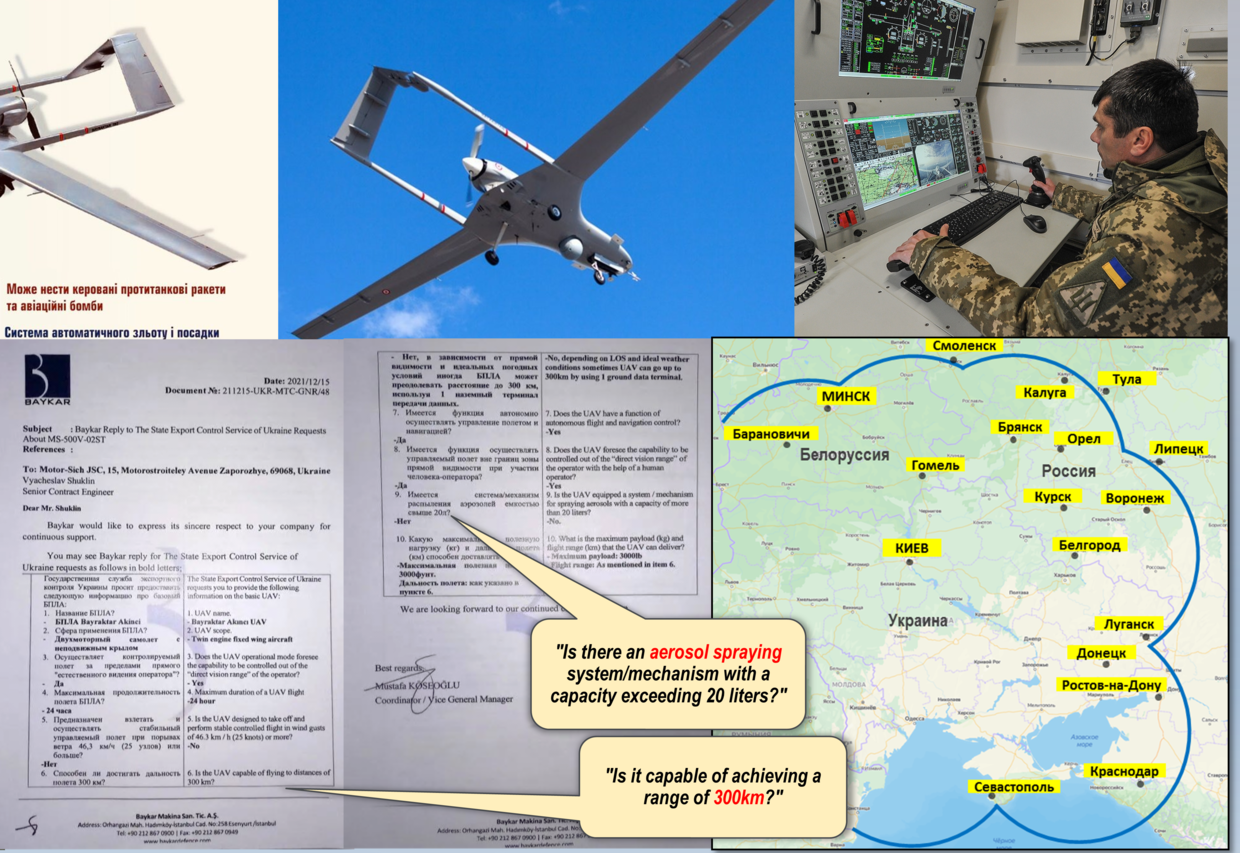 © Russian Ministry of Defense
Kirillov also referenced a US patent (No. 8,967,029) for a mechanism to deploy aerosolized pathogens from a drone. The US response to a 2018 Russian inquiry about this patent did not deny its existence, but claimed that it technically did not violate Washington's obligations under the treaties banning chemical and biological weapons, he pointed out.
Kirillov showed signed contracts between US government agencies – Defense Threat Reduction Agency (DTRA), the Pentagon, the Department of State – and the Ukrainian Ministry of Health, as well as the specific facilities inside Ukraine. The Pentagon spent more than $30 million for biological research at just one Ukrainian facility, the Public Health Center of the Ministry of Health, according to the Russian military.
READ MORE: Russia makes new allegations about US-funded biolabs in Ukraine
DTRA official Robert Pope was "one of the key figures" in the program, and "the author of the idea of creating a central depository of especially dangerous microorganisms in Kiev," Kirillov said. The Pentagon's biological projects in Ukraine were coordinated by Joanna Wintrol, head of the DTRA office in Kiev, until she left in August 2020. She directly supervised projects UP-4, UP-6, and UP-8 to study deadly pathogens, including anthrax, the Congo-Crimean fever, and leptospirosis, according to Kirillov.
The US agency's point of contact was Ukraine's Health Minister (2016-2019) Ulyana Suprun, herself a US citizen, Kirillov noted, while a major go-between was the private contractor Black and Veatch, whose Kiev office was headed by Lance Lippencott. Another Pentagon contractor, Metabiota, also had a role in the project.
Kirillov said that Hunter Biden – son of the current US President Joe Biden – played "an important role in creating a financial opportunity to work with pathogens on the territory of Ukraine," pointing to several emails between him and executives of Metabiota and Black and Veatch. In particular, he described the Metabiota VP as "a confidant of Hunter Biden," based on their correspondence. According to the general, the "Western media" has confirmed the authenticity of these emails – presumably a reference to materials published last week by the British newspaper the Daily Mail.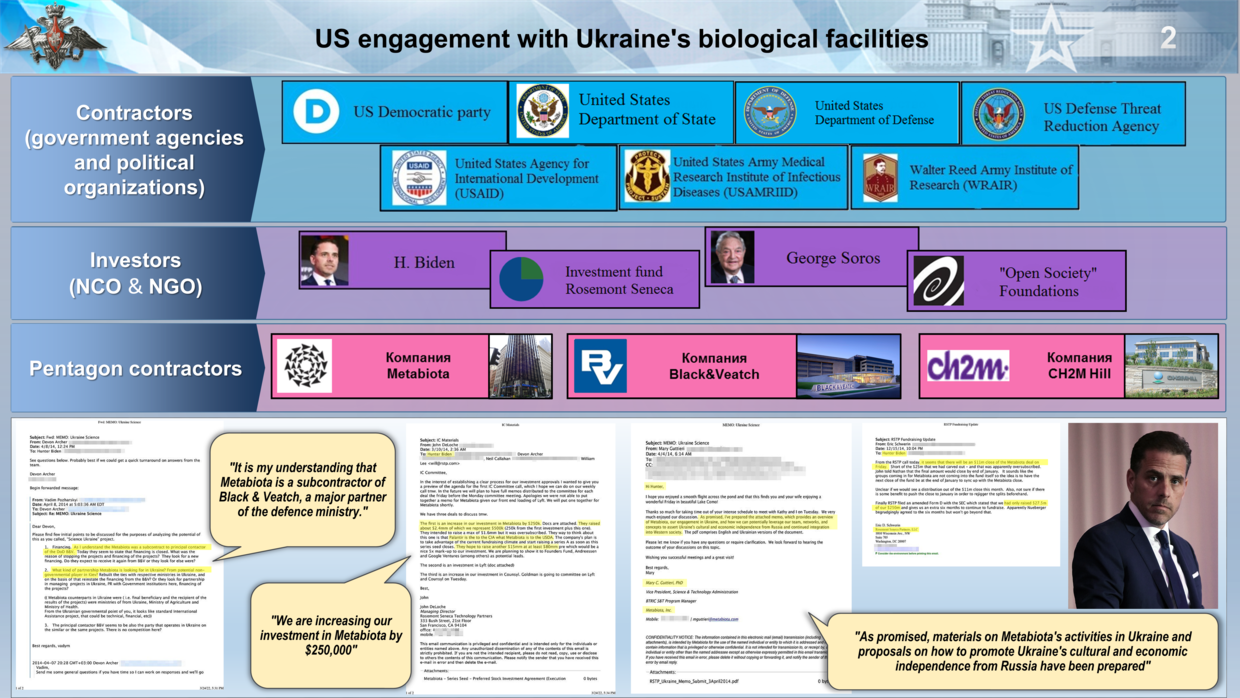 © Russian Ministry of Defense
Even Kiev was concerned about the biolabs, according to a memo Kirillov showed. A 2017 letter from the Kherson department of the Ukrainian Security Service (SBU) said that DTRA and Black and Veach intend to "establish control over the functioning of microbiological laboratories in Ukraine conducting research on pathogens of particularly dangerous infections that can be used to create or modernize new types of biological weapons."
Pointing to a June 2019 document from the Public Health Center of the Ministry of Health of Ukraine, Kirillov wondered why it insisted on secrecy and required that "serious" incidents "including the death of the subjects" had to be reported to the US bioethics authorities within 24 hours – when other documents about that specific program only reference standard blood sampling work.
READ MORE: Russia presents new evidence from US-funded Ukraine biolabs
"We do not exclude that the official research program is only the 'visible part of the iceberg', while in practice, volunteers were infected with the Congo–Crimean fever virus, hantaviruses and the causative agent of leptospirosis," the general said, accusing the US of "a dismissive attitude towards the citizens of Ukraine," and treating them as guinea pigs for biological and medical experimentation.
The US has long claimed that allegations about Pentagon-funded biolaboratories in Ukraine were "Russian disinformation." Earlier this month, however, US diplomat Victoria Nuland testified before the Senate that "biological research laboratories in Ukraine" did exist, and that Washington was working with Kiev "to ensure that the materials of biological research do not fall into the hands of Russian forces."
According to Kirillov, all pathogenic biomaterials stored in Ukraine were "transported by military transport aircraft to the United States via Odessa," in early February 2022. On February 24, as Russian troops entered Ukraine, the ministry of health in Kiev ordered the remaining strains to be destroyed, the general said.
Kirillov said that the Russian intervention halted activities at five Ukrainian biolabs that had been working with anthrax, tularemia, brucellosis, cholera, leptospirosis, and African swine fever.