Tass: https://tass.com/politics/1522429
Tass: https://tass.com/economy/1522393
ZeroHedge:
First, Tass on the subject of the arrests ahead of Putin's meeting with Erdogan.
Saboteurs caught plotting attack on TurkStream pipeline — Kremlin
Dmitry Peskov stressed that "this is an attempt on a route that remains in a functional state, fully loaded, running like clockwork"
ASTANA, October 13. /TASS/. Several saboteurs who plotted to carry out an act of sabotage against the TurkStream gas pipeline have been detained and taken into custody, Kremlin Spokesman Dmitry Peskov told reporters on Thursday.
"They tried to attack the TurkStream, too. The saboteurs were caught, several people were arrested as they sought to blow up our [facility] on our territory," he said.
Peskov stressed that "this is an attempt on a route that remains in a functional state, fully loaded, running like clockwork."
Russian President Vladimir Putin said at a meeting with members of the national Security Council on Monday that in response to the Ukrainian authorities' actions, a massive strike involving long-range high-precision weapons had been carried out on Ukraine's military, energy and communication sites. According to the head of state, Kiev has long been using terrorist methods, including an attempt to blow up a segment of the TurkStream gas pipeline, strikes on the Zaporozhye Nuclear Power Plant and three terrorist attacks on the Kursk Nuclear Power Plant. Deputy Prime Minister Alexander Novak announced on Wednesday that security measures had been tightened on the TurkStream pipeline following incidents on the Nord Stream 1 and 2 pipelines.
*******************************************
Putin, Erdogan talk gas hub in Turkey, grain deal, and nuclear plant construction
Vladimir Putin stressed that Russia's natural gas supplies to Turkey are being delivered in full and Ankara has turned out to be the most reliable partner today for deliveries of the natural gas to Europe
Turkish President Recep Tayyip Erdogan and Russian President Vladimir Putin
ASTANA, October 13. /TASS/. Creating a gas hub in Turkey, building another nuclear power plant in Sinop, and supporting agreements on the export of grain from Ukraine through the Black Sea became the topics of negotiations between Russian and Turkish Presidents Vladimir Putin and Tayyip Erdogan in Astana.
The leaders, who spoke on the sidelines of the Summit of the Conference on Interaction and Confidence Building Measures in Asia (CICA) in the capital of Kazakhstan, highlighted the high level of relations between the two countries and also announced their intention to expand cooperation in the energy sector.
Putin said that Russia's natural gas supplies to Turkey are being delivered in full and Ankara has turned out to be the most reliable partner today for deliveries of the natural gas to Europe. "Speaking about hydrocarbon energy, I should say that the deliveries of our hydrocarbons, including natural gas, are being delivered in full volume and according to your requests," he said.
Meanwhile, Putin's idea to create a gas hub in Turkey was positively received by Erdogan, the two parties gave instruction to work on it. "Instructions were immediately given by both presidents – right during the negotiations – to work on this issue. Various options have even been discussed," he said.
Putin and Erdogan also discussed the grain deal during talks, Russian presidential spokesman Dmitry Peskov Kremlin spokesman Dmitry Peskov told reporters. "It was indeed discussed," the Kremlin spokesman said, answering a question whether this topic had been raised at the meeting. "It was stressed once again that the major, the overwhelming portion of grain is going actually to Europe, that is, to rich countries. And a very small portion of grain goes to poor countries," Peskov noted.
The first unit of the Akkuyu Nuclear Power Plant (NPP) is likely to be managed to be commissioned in time, Putin told Erdogan. "Our colleagues from governments and companies dealing with the practical work are implementing all the outlined plans. This pertains also to the investment process and construction of the Akkuyu Nuclear Power Plant. The work is on track," the Russian leader said.
About 20,000 people are currently working on the site, Putin said. "We are getting on track and to all appearance we will manage to honor our agreements on launching the first power unit by the 100th anniversary of the Republic of Turkey," the President added.
At the same time, the presidents did not touch upon the situation in Ukraine, according to Russian presidential spokesman Dmitry Peskov. According to Peskov, the issue "wasn't touched upon at all".
*******************************************
Erdogan Eager To Act On Putin's Offer To Make Turkey A 'Gas Hub' 
BY TYLER DURDEN
SATURDAY, OCT 15, 2022 – 08:45 AM
"There will be no waiting," Turkish President Recep Tayyip Erdogan said Friday in his first official statement on the Russian proposal for Turkey becoming a Russian gas hub for Europe.
Both leaders attended and met at a regional summit in Kazakhstan, where Putin floated a plan for exporting more gas – which has been blocked through main European hubs due to the Ukraine invasion and also 'mystery' sabotage attacks on the Nord Stream pipelines – through the TurkStream pipeline, which runs under the Black Sea.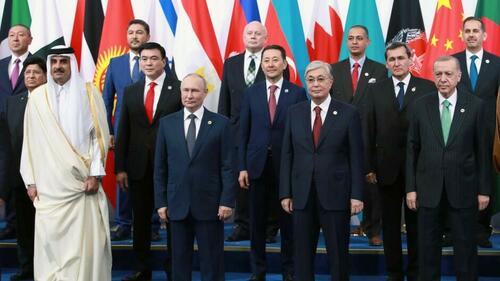 Both said they are now quickly moving forward, laying the groundwork for technical plans. "Together with Mr. Putin, we have instructed our Ministry of Energy and Natural Resources and the relevant institution on the Russian side to work together," Erdogan said following the meeting with Putin.
"They will conduct this study. Wherever the most appropriate place is, we will hopefully establish this distribution center there," the Turkish leader added. Erdogan had suggested Thrace as an ideal location in his comments to the press.
Separate follow-up comments by Foreign Minister Mevlut Cavusoglu indicated that Turkey sees itself in a position to alleviate Europe's energy crisis, also at a moment it is putting itself forward as a reliable 'neutral' mediator toward ending the war in Ukraine.
"The weakening of Europe in all aspects is not in Turkey's interest. On the contrary, it is against (Turkey's interests,)" Cavusoglu said. "This is a matter of supply and demand. How much of Europe … is ready to buy gas from such a project? This needs to be worked out together."
As for Europe, leaders are likely only to this as another ploy by Moscow to sow division among NATO as well as EU countries in their united stance against Russia, and as they struggle to agree on punitive energy measures against Moscow, yet in a way that doesn't blow back worse on European populations and the economy.
So far, of course, this delicate tightrope attempt – including also efforts to cap Russian oil prices – have only backfired and exposed inter-EU tensions and fractures, given the strong resistance of countries like Hungary and Bulgaria.
Turkey, in even entertaining the new Putin proposal and now signaling it's moving forward with studying it, has throughout the Ukraine conflict proven itself to be an outlier when it comes to its Western allies' united strong stance against Russia.