The final assault on Bakhmut has begun.
The Armed Forces of the Russian Federation are developing their success on the outskirts of the Pidhorodne The situation in Artemovsk on the morning of January 5 from Ukraine sources,even the AFU General Staff confirms the Russian offfensive in Bahmut.
The capture of Pidhorodne makes it possible for Russian troops to enter the northern part of Artemovsk and develop an offensive along the M-03 highway in the direction of Krasnaya Gora and Berkhovka.
Meanwhile, Russian President Vladimir Putin on Wednesday ordered a warship armed with new hypersonic Zircon cruise missiles to be deployed on a mission to the Atlantic and Indian Oceans, in what could be a message and warning aimed at the West against escalating or intervening in Ukraine.
The deployment of the frigate appears intended to make maximum possible public impact, given the announcement was made by Putin himself in a televised conference call with his defense minister, Sergei Shoigu.
Along with Shoigu, Putin addressed Igor Krokhmal, commander of the frigate which bears the name "Admiral of the Fleet of the Soviet Union Gorshkov" – and reminded him the ship while on mission is armed with Zircon hypersonic weapons – again in a coordinated message which unveiled the deployment to the public for the first time.
"This time the ship is equipped with the latest hypersonic missile system – 'Zircon' – which has no analogs," Putin said. "I would like to wish the crew of the ship success in their service for the good of the Motherland."
The ship is expected to also enter the Mediterranean Sea at some point while on its Atlantic mission, though the timeline of the voyage remains unclear.
"This ship, armed with 'Zircons', is capable of delivering pinpoint and powerful strikes against the enemy at sea and on land," Shoigu had responded to the Putin announcement. The defense chief also stressed the Zircon is undefeatable, able to evade any anti-air defense system in the world due to its purported ability to fly at nine times the speed of sound.
According to The Telegraph, it's already making its way into the Atlantic, based on the publication's Wednesday reporting that "a warship armed with new hypersonic cruise missiles on a training mission [went] past Britain to the Atlantic and Indian Oceans and the Mediterranean."
All of this follows last year's test launches of Sarmat – an intercontinental missile capable of carrying nuclear warheads – launches which were confirmed in highly publicized videos.
Here is the current and projected AFU Order of Battle courtesy of Rybar
Per Moon of Alabama (https://www.moonofalabama.org/2023/01/ukraine-the-big-push-to-end-the-war.html#more):
So how will Russia proceed towards the end game?
Dima of the Military Summary Channel discussed yesterday how two big moves, one up from the Mariupol area and one down west of Kharkiv, can cut all railroad lines that connect west Ukraine with the eastern frontline where some 80+% of the Ukrainian army is now deployed.
I agree that the move from the south will happen but I am less sure about the northern branch.
The Ukrainian army, just like the Russian one, depends on railroads for medium and long range transport. Neither has enough trucks to move the big amount of supplies that are needed to support the war.
Ukrainian railways.
To be able to supply its forces any Russian move must follow the rail lines and create some safety corridor left and right of them. Some railways will be damaged by fighting but Russia has special railroad regiments that are trained and equipped to do repairs under war conditions. The move from the south would go to Pavlovgrad (Pavlovhrad) while the move from the north would pass Kharkiv in the west and aim at Lozova. When both are taken the Ukrainian army at the eastern front will be completely cut off from the rest of Ukraine and, without supplies, will have to surrender or die.
Both are big 200 kilometer (120 miles) long moves that require significant amounts of forces. But after its mobilization and with volunteers Russia has 350,000 additional forces it can move in. 75 to 100,000 are sufficient for each push while the rest can keep the Ukrainian troops in the east very busy and fixed in their position.
Then comes the question of when.
Due to currently warmer than normal weather the ground in Ukraine is not yet frozen and the mud will return in March and April. That gives only a two months window to move forward. If I were the Russian commander I would probably wait and use the six dry months during the summer. But there are other criteria, like politics and economics, that will come into play and which may require an earlier move.
If the plan works the war will largely be over. Russian troops will be free to move anywhere in Ukraine with only little resistance. A move to retake Kherson and Odessa will then be a rather easy and short affair.
The big question is how the U.S. will respond. If the Ukraine falls the U.S. and NATO will have lost their war against Russia. That will cause serious political damage.
Thomas H. Lipscomb writes that war will be lost because it was badly planned and in a way that could never have changed its direction:
American military planning was once world class. But who would plan a proxy war against Russia, one of the acknowledged masters of artillery with far better air defense technology than any in the West, and then equip our puppet Ukraine with inferior weapons and only enough ammunition to last six months? And surely American planners couldn't help knowing that there was no longer a manufacturing base for resupply, and NATO warehouses were practically empty?
This will have wide ranging consequences:
[T]he United States current leadership is a bunch of total idiots, blinded by ideology, arrogance and illusions of pursuing a "rule-based" global hegemony, an opportunity long passed, as our performance in this proxy war shows. The United States may have won the Cold War but it lost the peace. Its strategic thinking and its military is obsolete and configuration of both forces and equipment is based on assumptions from the past millennium. The battle for a Great Global Reset under a unipolar American hegemony has been lost as well. The World Economic Forum is now about as relevant as the Holy Roman Empire. All they can continue to do is terrorize the increasingly authoritarian states of the West with asinine policy proposals.

The attempt to destroy Russia prodded it to a burst of brilliant diplomacy and leadership by Putin and his team that has quietly established that the rest of the world prefers sovereignty and a multi-polar world. The post Cold War "Pox Americana" as Larry Johnson has called it, is over. Historians of the future will study this period of history with fascination. Few times in history has such immense change happened so fast.
The effect of losing the war will be noticed in global and domestic politics. 'Western' global standing will be degraded and the leadership of the war party will receive some well deserved bashing.
But will the U.S. let that happen? Can it allow itself to lose this war? Or will it escalate? Even when that is likely to only worsen its situation?
Comment: As Larry Johnson observes (https://sonar21.com/blinded-by-the-lies-the-u-s-military-is-relying-on-ukrainian-intelligence/), it appears our intelligence is based on UKR intell (LOL).
I have confirmed that the Defense Intelligence Agency is relying solely on Ukraine for the intelligence on Russian and Ukrainian casualties. In other words, if Ukraine tells its DIA liaison officer that Ukraine killed 400 Russians in its latest HIMARS strike then that is what DIA tells the U.S. General commanding EUCOM. This is more than troubling. This is dangerous.
There are six basic types of intelligence that a good analyst should consult in preparing an assessment:
Intelligence from foreigners recruited to spy for the United States,
Intelligence produced by foreign governments that is passed to the United States,
Reports produced by U.S. Government organizations, e.g. State Department cables sent from US embassies and Defense Attache reports based on information the attache collected in a particular country,
Electronic intercepts, which includes communications collected and analyzed by the National Security Agency,
Imagery from satellites and air craft (including drones)
Open source, e.g. press, media, and social media
What DIA and CIA ought to be doing is to scour all source intelligence to come up with an accurate report on the casualty rate for Ukraine and Russia. For example, surely the United States has intercepted communications between Russian military commands discussing killed and wounded. Ditto with respect to Ukraine.
Here is what we know with certainty from open source reports.
Russia is firing a staggering 20,000 artillery rounds per day, a senior U.S. defense official estimated, while Ukraine is firing from 4,000 to 7,000 rounds daily.

The Ukrainians are quickly burning through their stockpiles of artillery rounds and other ammunition, including for their air defense systems, officials said.

https://www.nbcnews.com/politics/national-security/russia-ukraine-war-ammo-rcna56210
Those rounds translate into casualties on both sides. Put simply, Ukraine is suffering at least four times the number of killed and wounded than Russia.
U.S. journalists are a lazy lot and are regurgitating to the public the official line presented to them by the White House, the Department of Defense and the Department of State. The same applies to most of Europe. But once in a while, a reporter stumbles on to the truth. Maria Senovilla, who writes for the Spanish magazine Atalayer, committed an act of journalism:
What is happening in the battle of Bakhmut? The news we are receiving is of the death of very many people.

Yes, we have to look to the Donbas because Bakhmut is precisely the blackest point of the war in Ukraine. This week, both the Institute for the Study of War, which is a prestigious American think tank, and other international thin tanks, have agreed that up to 400 Ukrainian soldiers a day are being killed and wounded in Bakhmut.

And beyond the number, which is just a figure, I have been able to talk in recent days with different military sources, both official and combatants who have been there, and what they say makes one's hair stand on end. The city is for the moment under Ukrainian control, but the Russian troops have stationed their artillery close enough to fire there, but far enough away so as not to expose their troops too much. Meanwhile, the Ukrainian army, as it has to defend the terrain, has a lot of infantry, light units, paramilitary units that can do little against the bombs. This combat front has become today a real human meat grinder. That's how crude I can say it.

Right now it is one of the most, if not the most, worrying point for Zelenski's armed forces. Our listeners are probably wondering what is the importance of Bakhmut to take such a commitment to defend the position with such a very high cost of living. Bakhmut is not an iconic city like Severodonetsk was, where one of the great battles of this war also took place. Bakhmut is not that kind of iconic city. However, it is a communications hub that is key to the supply lines of Ukrainian troops in Donetsk province, and it is also the buffer that contains the advance of Kremlin troops towards Sloviansk and Kramatorsk. If the Russian Army were to take these two cities, it would gain almost total control of the Donetsk province and, therefore, of the entire Donbas, something that Putin could already sell as a great victory. So you can imagine the effort that the Kremlin is putting right now in taking Bakhmut and what it is costing the Ukrainians to defend it.

https://atalayar.com/index.php/en/content/maria-senovilla-bakhmut-blackest-point-ukrainian-war-400-ukrainian-soldiers-day-are-being
I understand why politicians will lie about a failing policy. But it is inexcusable for intelligence professionals to enable that lying. The best antidote is factual, objective analysis. Especially analysis based on multiple sources. Politicians need a Dutch Uncle who will tell them uncomfortable truths. That is not happening. One of these days the reality of the carnage Ukraine is suffering will become impossible to cover up and the Kabuki theater of looking for a scapegoat will kick off in Washington. Guess what? It will be called an intelligence failure. The politicians will be frantic to escape any blame for the debacle of "losing Ukraine" and the intelligence community will be the culprit. In this case, the intelligence community will have earned its culpability. They are cowards who refuse to stand up and tell the truth.
Comment: And so, Russia announced a 36-hour ceasefire (https://tass.com/defense/1417117). After that, we'll see what happens. The last time Russia ordered a cease-fire was just before the final assault on Mauriupol
Here is ZH: https://www.zerohedge.com/geopolitical/russias-patriarch-kirill-calls-both-sides-implement-truce-orthodox-christmas
Update (1015ET): Shortly after Erdogan spoke with Putin this morning, the Russian leader has ordered a temporary cease-fire in Ukraine Friday and Saturday to mark Orthodox Christmas.
The statement from the Kremlin cites earlier appeal from Patriarch Kirill for ceasefire over the holiday. Russian Orthodox Church leader Patriarch Kirill had previously said in a statement posted to the church's official website:
"I, Kirill, Patriarch of Moscow and of all Rus, appeal to all parties involved in the internecine conflict with a call to cease fire and establish a Christmas truce from 12:00 on January 6 to 00:00 on January 7 so that Orthodox people can attend services on Christmas Eve and on the day of the Nativity of Christ."
There's been no response so far from Ukrainian officials.
KREMLIN: RUSSIA TO ANNOUNCE TRUCE IN UKRAINE FROM 1200 JAN.6 TO 2400 JAN.7 – IFX
KREMLIN: RUSSIA CALLS ON UKRAINIAN SIDE TO DECLARE A CEASEFIRE AND ALLOW PEOPLE TO ATTEND SERVICES ON CHRISTMAS EVE, AS WELL AS ON CHRISTMAS DAY – IFX
Russian and Ukrainian Orthodox Christians celebrate Christmas on Jan. 7th, and is a major holiday just as in the West during December (the Orthodox Church's Julian calendar December 25 falls on January 7 on the West's Gregorian calendar).
Bloomberg has meanwhile hinted at a negative response from Ukrainian leaders, given their initial reaction to Patriarch Kirill's Christmas truce call:
Russian President Vladimir Putin ordered his forces to cease fighting in Ukraine for 36 hours starting Friday at noon, Moscow time, in what appeared to be a rare sign of conciliation in an invasion that's heading for its second year.

The Kremlin said Putin gave the order Thursday for Russian Orthodox Christmas. It follows an appeal by the patriarch of that church, which has close ties to the Kremlin. Ukrainian officials denounced that as a trap. Kyiv has demanded Russia remove its troops from Ukraine as a condition for any ceasefire.
This was the reaction of a Zelensky advisor to Patriarch Kirill's ceasefire call, in reference to the Russian Orthodox Church (ROC):
As we detailed earlier, Turkish President Recep Tayyip Erdogan urged Russian leader Vladimir Putin in a Thursday phone call to implement a unilateral ceasefire in order to jumpstart negotiations toward ending the war with Ukraine. "President Erdogan said that calls for peace and negotiations should be supported by a unilateral ceasefire and a vision for a fair solution," a statement from his office said.
Erdogan said future peace talks should be guided by a "vision for a fair solution"; however, the Russian leader repeated his red line and ultimately what it will take to get Moscow to the negotiating table: Kiev must give up the annexed territories in the east.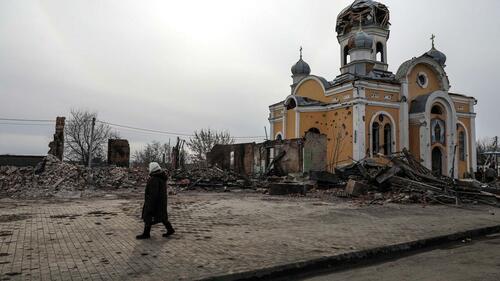 Putin stressed in the call that Ukraine must acknowledge "new territorial realities" for talks to happen. Additionally the Russian president "acknowledged the destructive role of the West, pumping weapons into Kyiv, providing information and guidance," according to a Kremlin statement.
Erdogan is expected to also hold a phone call with Ukrainian President Volodymyr Zelensky later on Thursday. Zelensky has of late stressed that Ukraine will not make any territorial concessions for the sake of peace and reiterated his country's stance that no talks can happen until all Russian troops withdraw to their pre-Feb.24 positions.
Turkey has vowed to continue strengthening infrastructure that facilitates the grain export deal out of the Black Sea . The grain deal has been the only successfully negotiated major agreement of the war thus far which has actually held (in addition to various prisoner swaps).
Also on Thursday, a call for peace was issued by Patriarch Kirill, head of the Russian Orthodox Church, who is urging both sides to observe a Christmas ceasefire.
Russian and Ukrainian Orthodox Christians celebrate Christmas on Jan. 7th, and is a major holiday just as in the West during December (the Orthodox Church's Julian calendar December 25 falls on January 7 on the West's Gregorian calendar).
Patriarch Kirill said in a statement posted to the church's official website:
"I, Kirill, Patriarch of Moscow and of all Rus, appeal to all parties involved in the internecine conflict with a call to cease fire and establish a Christmas truce from 12:00 on January 6 to 00:00 on January 7 so that Orthodox people can attend services on Christmas Eve and on the day of the Nativity of Christ."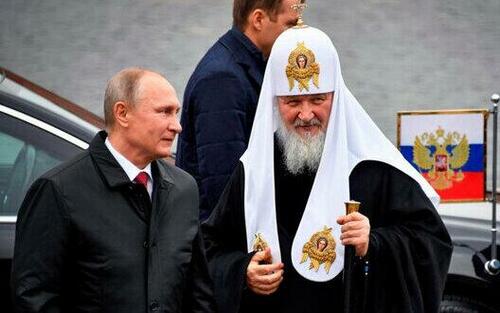 While the majority of churches and people inside Ukraine still have ties to the Russian Orthodox Church, the Ukrainian government has unleashed a crackdown, seeking to hand these churches over to a local church hierarchy that Moscow sees as schismatic. Kirill early in the war generated controversy by appearing to support the invasion amid calls from the West for him to condemn it as the seniormost clergyman in Russia.
If the Russian church's call for a Christmas truce is observed and holds, it could increase the chances of the two sides eventually seeking a more permanent ceasefire and negotiated settlement. But as is stands now, given Ukrainian forces have over the past months seen battlefield successes, this possibility still looks remote.
What about NATO/Polish troops in Ukraine?
Well, here's Scott – it's worth a watch