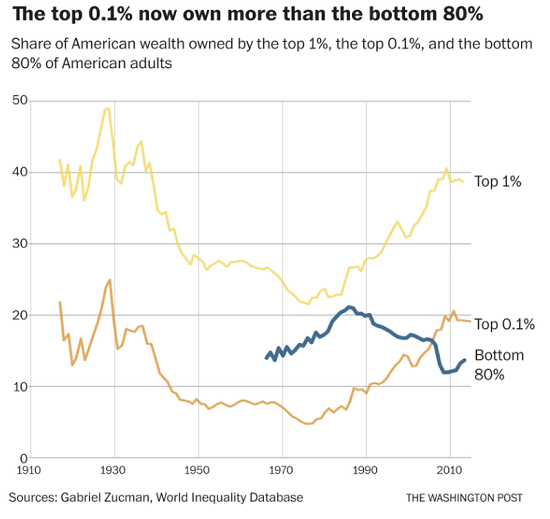 My old professor, Murray Rothbard, explained the dynamics decades ago:
"The first people to get the new money are the counterfeiters, which they use to buy various goods and services. The second receivers of the new money are the retailers who sell those goods to the counterfeiters. And on and on the new money ripples out through the system, going from one pocket or till to another. As it does so, there is an immediate redistribution effect. For first the counterfeiters, then the retailers, etc. have new money and monetary income they use to bid up goods and services, increasing their demand and raising the prices of the goods that they purchase. But as prices of goods begin to rise in response to the higher quantity of money, those who haven't yet received the new money find the prices of the goods they buy have gone up, while their own selling prices or incomes have not risen. In short, the early receivers of the new money in this market chain of events gain at the expense of those who receive the money toward the end of the chain, and still worse losers are the people (e.g., those on fixed incomes such as annuities, interest, or pensions) who never receive the new money at all."
Now decades later, Charles Hugh Smith summarizes the damage done:
"Of the many things we cannot bring ourselves to admit, one of the most consequential is that our vaunted middle class is illusory, a phantom of our imagination rather than a reality. The reality is the vast majority of the nation's wealth and income has been diverted from the middle class to those at the pinnacle of the wealth-power pyramid and the technocrat / financier insider class (the top 10%) that serves the interests of those at the pinnacle.
"This transfer has accelerated rapidly in the 21st century as virtually all the real income gains of the past 20 years have flowed to the top 0.1%. This RAND study found that America's elites siphoned $50 trillion into their own pockets in the past two generations: Trends in Income From 1975 to 2018. (Please look at the "Fruits of Financialization" chart below.)
"The earnings of the top 0.1% grew 15 times faster than the earnings of the bottom 90% (See chart below) as wages' share of the economy continues its 50-year decline."
This process accelerated when Nixon closed the gold window in 1973 in order to play the Keynesian card of deficit spending.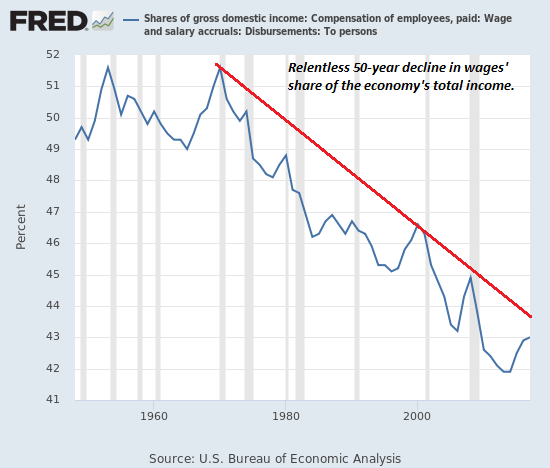 Deficit spending gave us trade deficits process accelerated under Clinton. Since China entered the WTO, the US bleedout went ballistic.
And now that we have "la famiglia criminale Biden" running the executive branch – literally, business partners of the Red Ponzi and owned by financial elites – while socialists run Congress, we know this ends only one way – more financialization, more deficits, and more rewards to the plutocracy.
Here is Charles Hughes Smith: http://charleshughsmith.blogspot.com/2020/12/our-phantom-middle-class.html