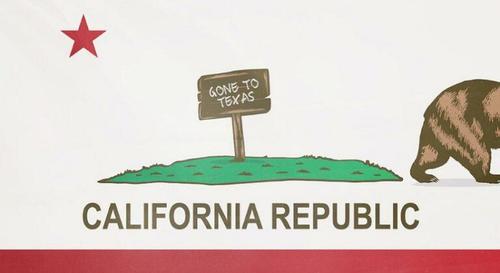 Bandron Smith (Alt Market): https://www.birchgold.com/news/blue-state-economies-crumble
Over the past six to eight months, the U.S. has seen perhaps one of the largest migrations of people based on economic and ideological concerns in almost a century. Not since the Great Depression has there been so many Americans relocating in search of a better life. Today, however, those who relocate seem to be largely conservatives and moderates. There is a very good, multifaceted, reason for this.
I think one of the best recent explanations for the conservative migration is visible in the near-180-degree turnaround by New York Governor Andrew Cuomo on his draconian lockdown mandates. All of a sudden, Cuomo has announced that New York simply cannot stay closed any longer and that businesses need to reopen quickly.
With the successful conclusion of the Econo-Bio War of 2020, there is no need for lockdowns anymore. China and their US allies/business partners (The Party and Oligarchs) need to rev things up.
And fast,
Back to Smith:
I don't believe Cuomo is mending his totalitarian ways, but at least for now, I think he is realizing what most of us in the alternative economic field have been saying for the past year:  Blue state economies are dying because they are oppressive and this stifles trade and business.
…
On the other side of the country, California is witnessing its own exodus, and it started well before the pandemic struck. In 2019, California saw over 653,000 residents escape the state's suffocating bureaucracy and high taxes. In 2020, the state has hit its lowest population growth rate in history, even after accounting for babies born. More than 200,000 people left the state than moved in in the past year, and before anyone claims that these people are "liberals" invading red states, even the California media admits they are mostly conservatives seeking to escape the socialist sinkhole.
The election that capped the Econo-Bio War pitted tax consumers/debtors against tax producers/savers. With the help of stuffed ballots – and votes in excess of population in some cases – the tax consumers/debtors won.
That means mo' debt and taxes.
But what does this mean for leftist states in economic terms?  First, a huge loss of tax revenue, and this is dangerous for blue states in particular. California was projecting a $5.6 billion surplus in January of last year, only to face a $54 billion deficit by August. The state's net tax revenue fell by 42% from March to May year-over-year, far outpacing losses in the rest of the country. Democratic Gov. Gavin Newsom begged Congress for $14 billion in federal aid, claiming that the government has a "moral and ethical obligation to help the states".
And this seems to be exactly how states like California are surviving, by stealing tax dollars from people in other states that have been more responsible in caring for their economies.
…
Furthermore, blue states tend to have the highest levels of unfunded pension liabilities. In other words, their public pension obligations are only partially funded and are suffering a net loss. California, Connecticut and Illinois top the list and the only red state that comes close in terms of percentages is Alaska. Red states top the list in terms of the best funded pensions and the lowest debt per capita.
…
The most likely reaction among blue states or the federal government under Biden will be to try to "redistribute" the wealth and stability from red states to blue states. This could happen in the form of stimulus measures that unfairly benefit blue states. The resulting dollar devaluation and price inflation might hit red states harder because they would not be receiving bailouts to offset the higher costs. In the worst-case scenario, in which a full spectrum financial collapse occurs, we may even see the federal government attempt to redistribute production and manufacturing from red states to blue states in the name of "national emergency."
There could also be an attempt to stop people from moving away from blue states entirely. We have already seen a beta test for this in California, where legislators are attempting to pass a bill which would legally require former residents to continue paying taxes to the state for years after they leave.
Of course, this would lead to severe resistance from conservatives, but that is a discussion for another time. The bottom line is this: the economic and pandemic policies of blue states have failed miserably. Their only option is to see the error of their ways, become fiscally responsible and remove totalitarian lockdown measures, or, attempt to leech success from the red states like parasites. Which one do you think they will choose?
Well, all of that is in the future.
In the present, it's "party on, Wayne" as "The Party" takes over in DC.
Bootheels on the necks to follow.
"The ideal set up by the Party was something huge, terrible, and glittering—a world of steel and concrete, of monstrous machines and terrifying weapons—a nation of warriors and fanatics, marching forward in perfect unity, all thinking the same thoughts and shouting the same slogans, perpetually working, fighting, triumphing, persecuting—three hundred million people all with the same face."
George Orwell, "1984"