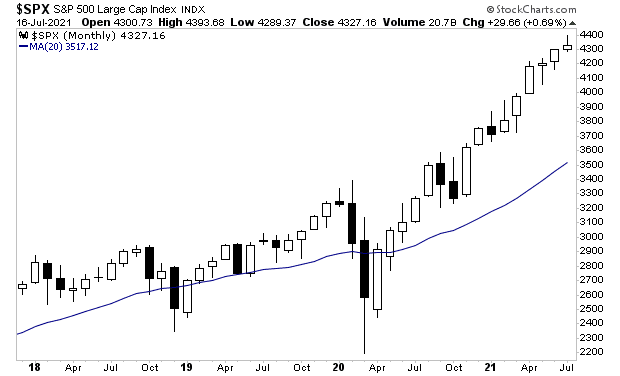 Yesterday, Powell committed to his personal "full employment" plan by signing onto to the Sock Puppet's Regime's inflation program, locking in his renomination as Chairman of the monetary politburo (see https://www.bloomberg.com/news/articles/2021-07-21/powell-has-broad-support-among-top-biden-aides-for-new-fed-term).
Translation – no tapering anytime in the next 5 years.
In lockstep with the Wizard of Oz's decision, the NYFed executed a celebratory market manipulation (red rectangle in the chart below) – literally levitating markets 39 points higher on, well, no discernable signal.
When the NYFed's thumb lifted late morning as everyone went to lunch, stocks traded sideways for the remainder of the session.
What happens next?
Well, here's the market v. the 20-dma and the PPO(1, 20, 1).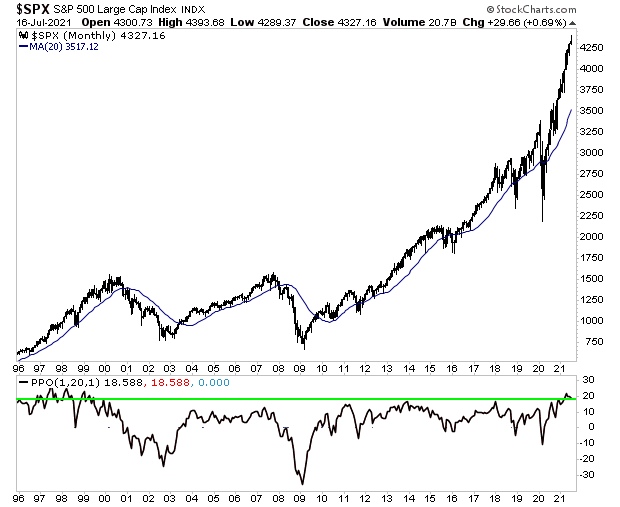 The PPO tells us every time stocks have been this far above the 20-dma, they will eventually revert.
In the meantime, seems like a sideways move for the foreseeable future.