Can't say I didn't say "heads up". I mean, that was a Triple-7 climbing out and they do tend to drop things.
Well, Tim Knight was kind enough to observe the Plunge Protection Team in the Monetary Politburo stepped in with still more debt/inflation for American households to prop up the Money Class.
But let's let Tyler summarize the smack-down: https://www.zerohedge.com/markets/momo-dumps-powell-pumps-crypto-slumps
A bad day for people with the word "wood" in their name (too soon?).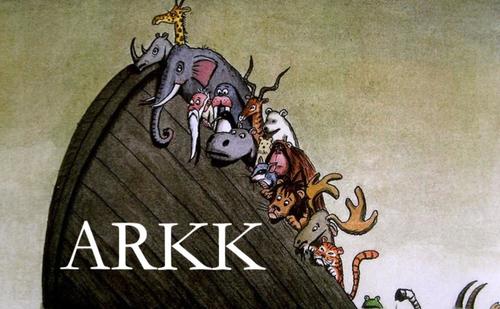 Tiger tumbled his car and Cathie's ARKK Invest crashed even harder…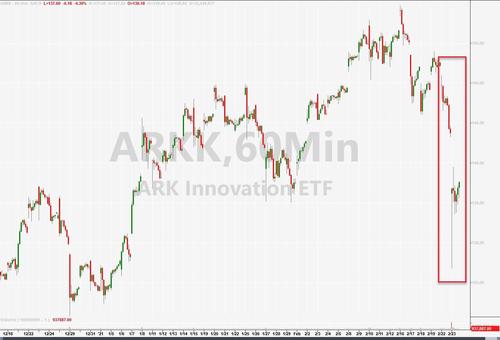 ARKK USD-volume today was un-fucking-believable! That's a fifth of the ETF's market cap!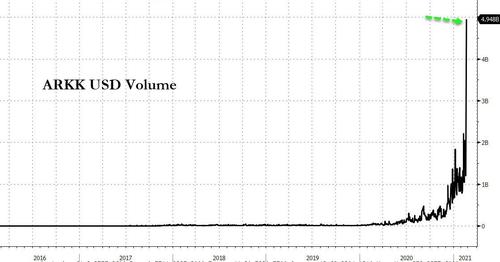 Source: Bloomberg
Cryptos were crushed.
Bitcoin back below $50k…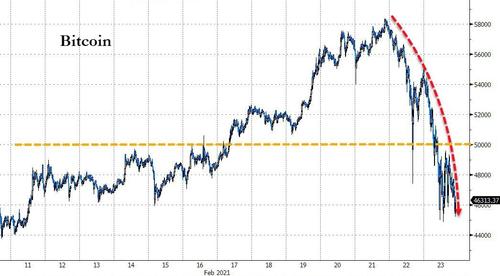 Source: Bloomberg
Ether ended back below $1500…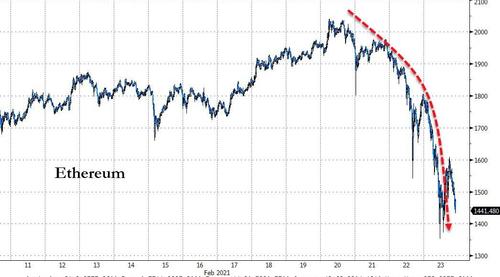 Source: Bloomberg
Momentum crashed…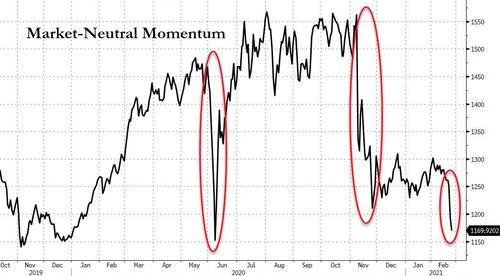 Source: Bloomberg
And while stocks were clubbed like a baby seal at the cash market open...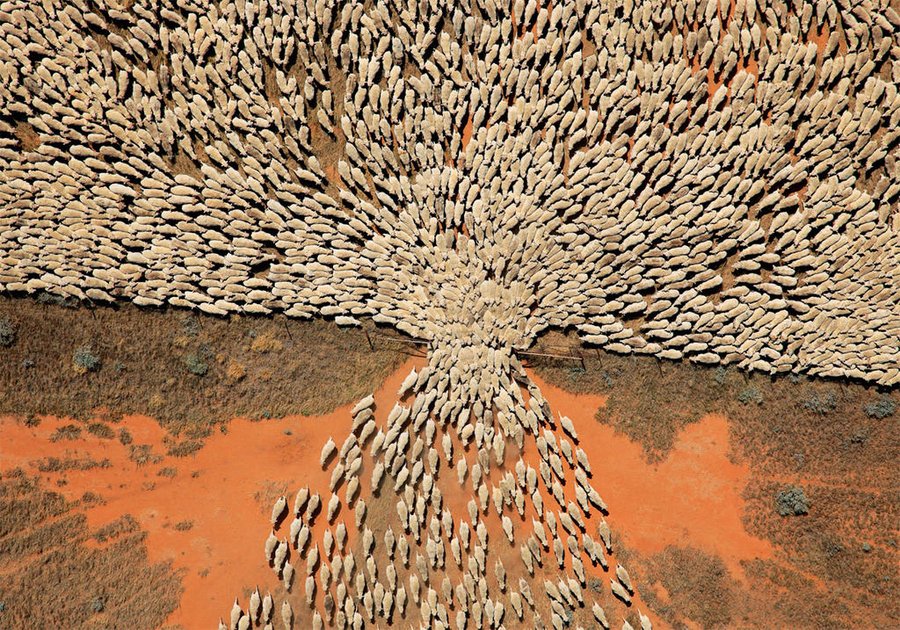 …Powell's promise of moar of whatever it takes (which is exactly what he has now said consistently for a year) sparked the standard buying panic, lifting the Dow (orange), S&P (green), and Nasdaq (blue) back to unchanged, Small Caps (red) ended red…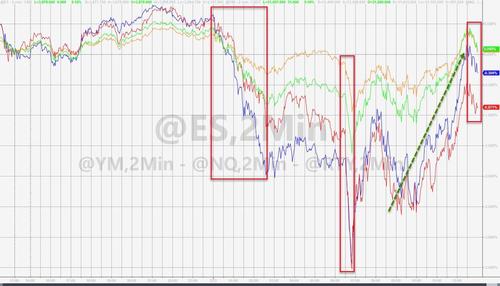 [COMMENT: mo' dough for Greenwich, mo' inflation for the rest of us]
NOTE: Europe's open also saw major selling pressure
"Did you not hear a single word of what I just said? Buy the f**king dip!"
Nasdaq found support at its 50DMA…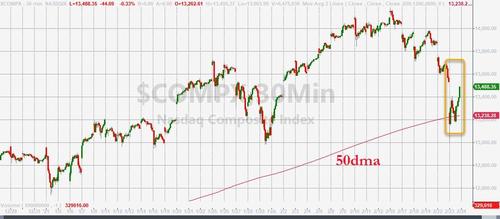 [COMMENT: 50DMA saves the day]
"Most Shorted" Stocks puked by the most since March 2020 at the open, only to be squeezed back higher…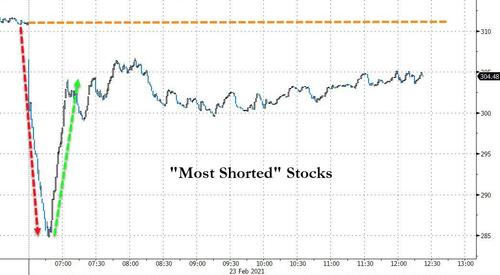 Source: Bloomberg
Energy stocks ended the day best with Cons Disc worst but everything levitated after the initial puke…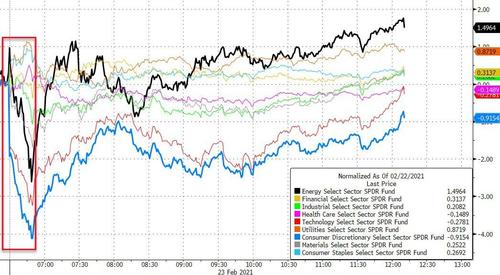 Source: Bloomberg
[COMMENT: can you say Super-Cycle?]
TSLA tumbled but dip-buyers also screamed in there too…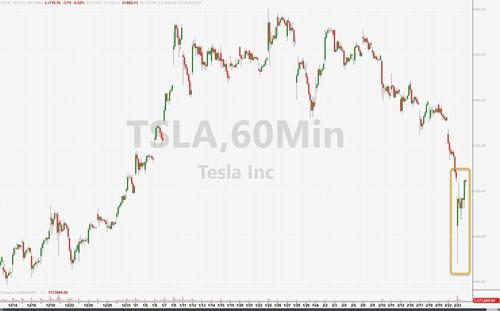 Could be worse – could be Workhorse…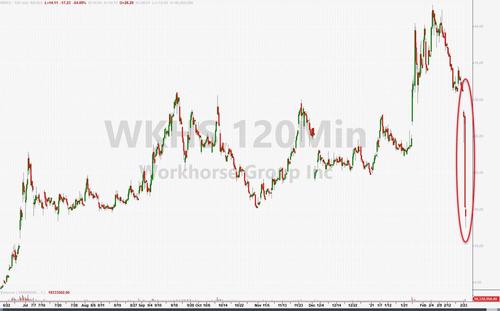 Small Cap Biotechs had a bad day…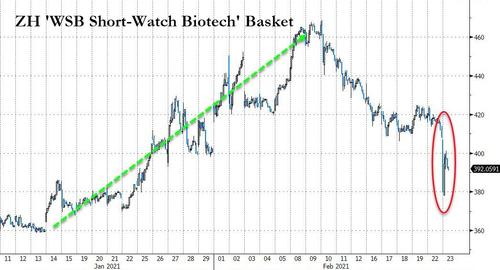 Source: Bloomberg
Bonds were mixed with the belly outperforming the tails (30Y +3bps, 5Y -2bps, 2Y unch)…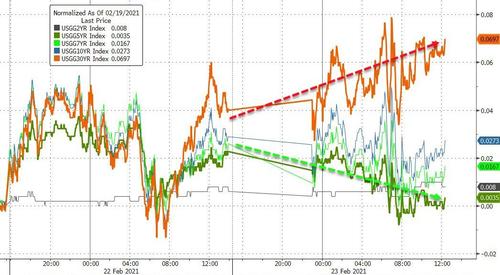 Source: Bloomberg
Despite all the chaos in stocks, 10Y Yields traded in a very narrow range on the day…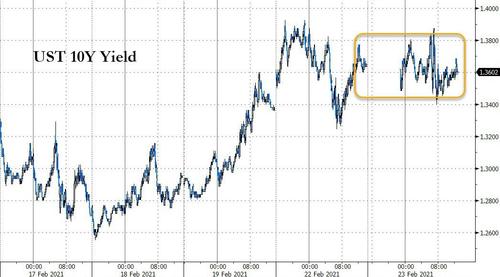 Source: Bloomberg
The dollar ended lower are tumbling along with stocks at the equity open…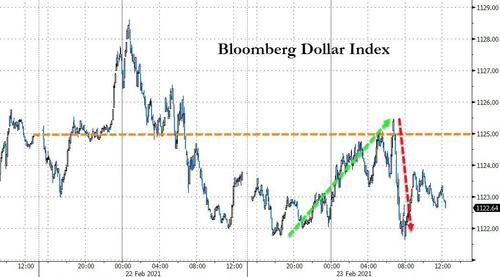 Source: Bloomberg
Gold was lower on the day, but held above $1800… just…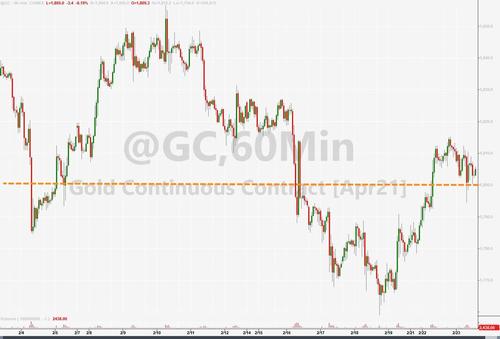 Oil prices continued higher with WTI back above $62 ahead of tonight's API inventory data….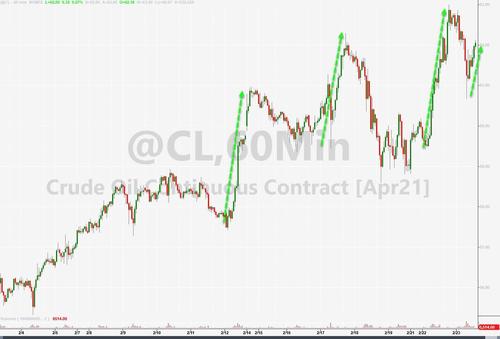 [COMMENT: again, can you say Super-Cycle?]
Finally, the most-crowded longs held by hedge funds has erased all its losses relative to the massive WSB short-squeeze (of the "most-shorted" stocks)…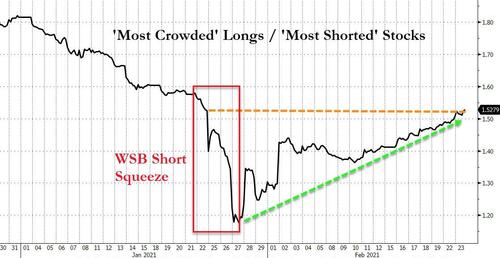 Source: Bloomberg
And if Biden and his pals want $1.9 trillion stimulus, they better get it done soon before this pandemic is over…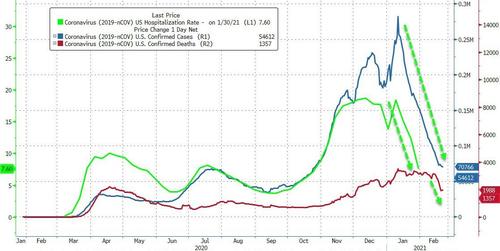 Source: Bloomberg
References
https://www.zerohedge.com/markets/momo-dumps-powell-pumps-crypto-slumps