With the Modern Solar Minimum upon us, better get used to colder winters over the next 3 decades.
Solar Cycle 24 (December 2008 – December 2019) is recorded as the weakest in magnitude since 1957 (Hajra, 2021). That cycle is consistent with the so-called "hiatus" that ran through 2013.
Here is how Cycle 24 fits into the long-term trends.
Cycle 25 will run ~11 years, bottoming out later in the decade. Subsequent cycles will continue past 2050 as Earth enters Eddy Minimum.
Global warming?
Well, sure, lower tropospheric temperatures are ~0.21 C above the 20 year trendline, according to satellite radiometers.
Compare that to this image of what's ahead over the next week – courtesy of NOAA's GFS simulations.
And, this is just the start. With solar radiance dropping over the next few decades, it will likely get worse – compounded by a weakened (and more meandering) jet stream due to the reduced irradiance.
Besides unnecessary death and economic turmoil in Texas, things are spilling over into other states and Mexico.
Here's ZeroHedge: https://www.zerohedge.com/weather/4-million-texans-without-power-amid-grid-collapse-second-storm-nears
Update (1415 ET): Rolling blackouts and power outages have hit 15 states on Tuesday as a polar vortex dumps Arctic air into much of the country.
According to PowerOutage.US, 15 states are experiencing rolling blackouts or outages because of extreme weather. Most of the outages are seen in Texas, with over 4 million customers without power (as of this update).
The polar vortex will continue pouring frigid air into much of the country through this week. Temperature anomalies are well below normal, creating major power-grid chaos.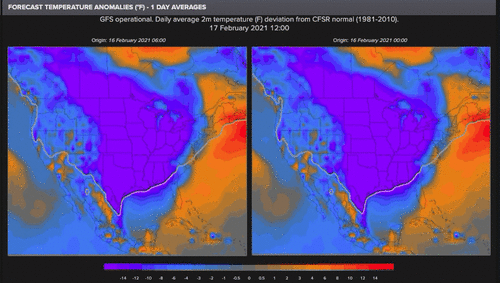 The disruption has spilled over into Mexico, where the US has curbed natural gas exports, resulting in power stations grinding to a halt.
OilPrice.com expands more on the chaos unfolding across Mexico's northern power grid.
The plummeting natural gas exports from the United States to Mexico amid an Arctic cold spell in the country that has led to a gas demand surge is causing blackouts in northern Mexico, with some 4.77 million households and businesses left without power on Monday.

Argus noted that most of the natural gas Mexico receives from the United States comes from the Permian, where the production of both oil and gas has been affected by the cold weather that has caused power outages across Texas.

Oil wells are being shut down, and so are refineries along the Gulf Coast, Reuters reported earlier today, adding oil and gas pipeline operations were also disrupted by the weather.

The blackouts, Bloomberg reports, will strengthen the government's argument that Mexico needs to be less dependent on energy imports, with President Andres Manuel Lopez Obrador spearheading the drive to reduce this dependency. Obrador wants to boost Mexico's domestic oil and gas production to tackle the problem, but this has proved challenging without the participation of private energy companies as the president seeks to fortify the dominant status of state energy major Pemex.
* * *
…
The lack of gas flowing to powerplants plus unprecedented demand for power has resulted in the state's highest-ever electricity rates. Power demand has surpassed supply leading to massive blackouts for the last couple of days. The goal now is to get power generation back online.
* * *
Update (1256 ET): Following the power grid collapse in Texas, Gov. Greg Abbott released a statement Tuesday that "declared the reform" of ERCOT in the new legislative session. Abbott will pressure lawmakers to investigate ERCOT's failures and make sure rolling blackouts never happen again.
"The Electric Reliability Council of Texas has been anything but reliable over the past 48 hours," said Abbott. "Far too many Texans are without power and heat for their homes as our state faces freezing temperatures and severe winter weather. This is unacceptable. Reviewing the preparations and decisions by ERCOT is an emergency item so we can get a full picture of what caused this problem and find long-term solutions. I thank my partners in the House and Senate for acting quickly on this challenge, and I will work with them to enhance Texas' electric grid and ensure that our state never experiences power outages like this again."
Here's the full text: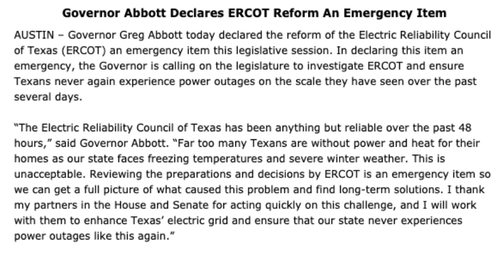 * * *
Update (1234 ET): ERCOT officials have promised to restore some power generation today, but according to PowerOutage.US, around 1221 ET, there are more than 4.423 million customers without electricity in the state. That's up 100k since 0900 ET.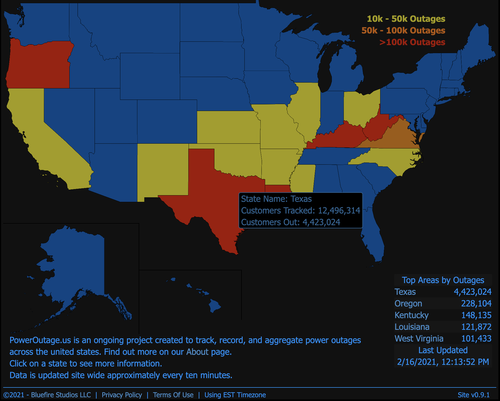 Bloomberg's Javier Blas tweets out he "doesn't have good news" concerning the power grid collapse in the state.
"The load on the ERCOT grid is right now nearly the lowest it has been since the blackouts started more than 36 hours ago. Load climbed a bit earlier (see chart, note GMT hours), but since has fallen, which indicates blackouts have spread again."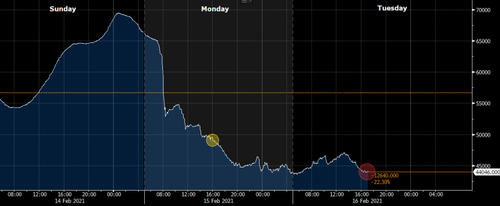 …
* * *
Update (1208 ET): There are three major power grids in the Lower 48 states: the Eastern Interconnection, the Western Interconnection — and Texas Interconnection.
The Texas grid is called ERCOT (Electric Reliability Council of Texas). It covers 90% of the state's electric load except for El Paso and the upper Panhandle, and East Texas.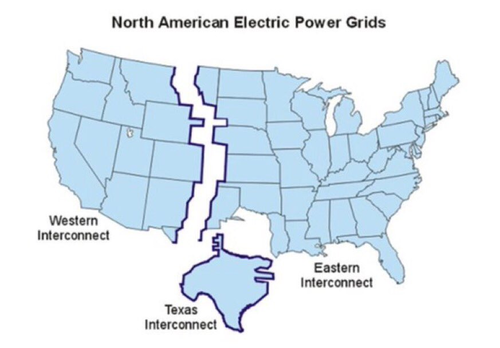 Local utilities under ERCOT have pledged not to sell their power to out-of-state customers. Texas grid's independence dates back to World War II.
While there's little pressure to integrate ERCOT into the national grid, that could all change with the latest wave of blackouts across the Lone Star State.
* * *
Update (1003 ET): Some Texans have been living in their cars to stay warm as rolling blackouts have left millions without power.
CBS DFW spoke with at least one person who's been sitting in his car since Sunday to get warm.
Collin County resident Clint Cash has had no power in North Texas for a couple of days. He said his house went dark Sunday, which was when he decided to bundle up and sit in his parked car with the heater on full blast.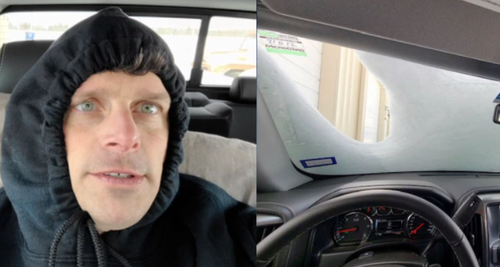 Isha Elhence, a Dallas resident who lost power around 2 a.m. Monday, was quoted by Bloomberg as saying, "We lost power around 2 a.m. Monday. It was only supposed to be for one to two hours, which seemed manageable… Now it's kind of indefinite with no updates, so we're unsure of what we're supposed to be doing."
"This is extremely dangerous," said Eric Berger, a forecaster with Houston's Space City Weather.
As the rolling blackouts increased across Texas, we noted Monday evening, internet searches for firewood exploded across the state.
Internet searches for "where to buy firewood" erupted on Monday.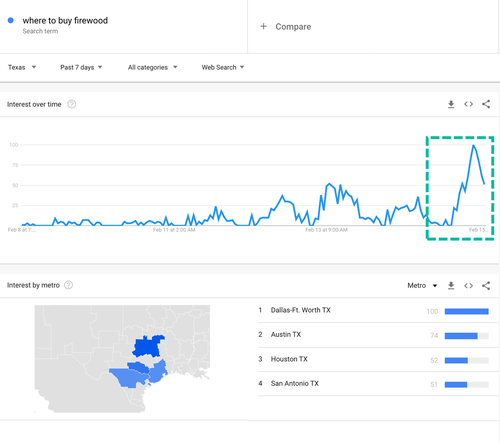 Texas' grid collapse has transformed the state into a third world country.
* * *
Update (0950 ET): With temperatures near zero this morning, GM decided to idle its massive Arlington Assembly plant due to "weather problems" for the second day. The facility sits on about 250 acres and employs approximately 5,480 people.
There are no further updates on when the facility will reopen. Temperatures are expected to stay frigid until the end of the week.
* * *
Update (0915 ET): Oncor Electric Delivery, Texas' largest transmission and electric distribution utility, tweeted:
"Due to ongoing record-low temps and generation, @ERCOT_ISO has continued to direct Oncor & utilities across TX to drop power load through maintained controlled outages. These controlled outages are occurring across the state and our entire service territory."
Oncor also tweeted:
"At this time, @ERCOT_ISO is unable to predict when grid conditions will stabilize. All customers are urged to be prepared for cont' extended outages. Please also prioritize safety. Warming stations are available in many areas- check online or call 211 for more."
Temperatures across Texas this morning are absolutely frigid.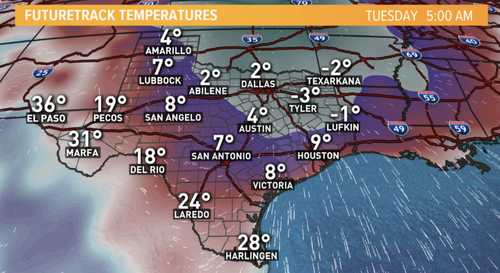 At the moment, PowerOutage.US shows 4.307 million customers in Texas are without power.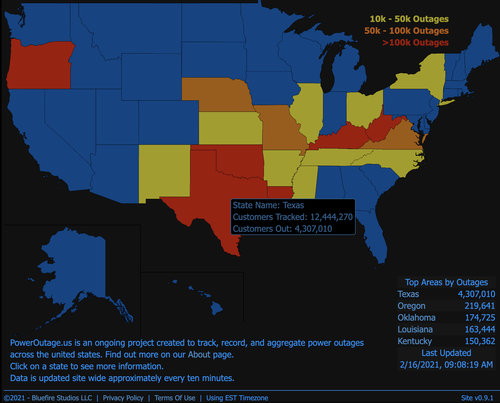 * * *
Update (0854 ET): Texas power grid operator ERCOT, which represents 90% of the state's electric load, tweeted Tuesday morning that "generators to return, renewable output to increase = increased customer restoration."
Bloomberg published a headline that said the grid operator expects all power to be back on Tuesday evening.
"It's a function of how many generations we are able to get back on line, especially gas and coal," Dan Woodfin, a senior director for the ERCOT, said in an interview. "It could be as early as early afternoon today. But then it is also possible it could go into the evening hours tonight."
However, Bloomberg's Javier Blas said the grid is "still short of at least 18.5 GW." He said that equates to outages for at least 3 million homes.
* * *
Update ( 0832 ET): The Southwest Power Pool (SSP), which manages the electric grid and wholesale power market for the central US, including Kansas, Oklahoma, portions of New Mexico, Texas, Arkansas, Louisiana, South Dakota, North Dakota, Montana, Missouri, Minnesota, Iowa, Wyoming, and Nebraska, said Tuesday morning that blackouts would continue for a second day.
…
Why are the 'poor' suburban areas dark while downtown is all lit up?
* * *
Four million Texans are without power Tuesday morning after a polar vortex split poured Arctic air into the region, collapsing the state's power grid, forcing grid operators to impose rolling blackouts because of higher power demand.
The PowerOutage.us website, which tracks power outages, said four million Texas customers were experiencing outages at 0630 ET Tuesday.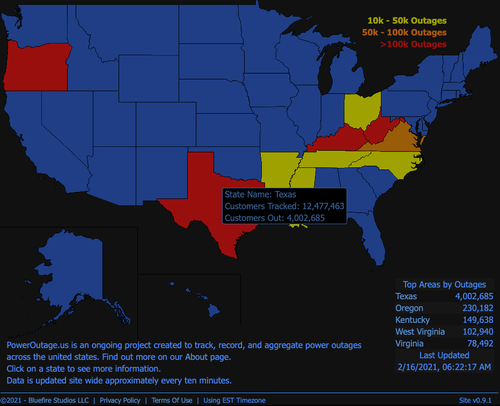 Houston Police Chief Art Acevedo tweeted that a weather-related death was reported
…
Acevedo tweeted, "Please pray for our elderly and vulnerable populations tonight. With the 2nd consecutive night of massive power outages and frigid cold, many lives are at risk. State of Texas leaders must do better, lives depend on it."
Refinitiv data shows Texas continues to deal with Arctic air, now stretching for the fifth day.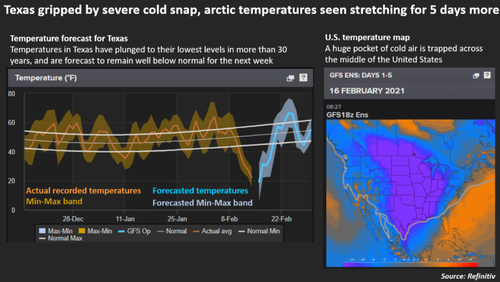 Below-average Texas temperatures will likely clear out by the end of the weekend.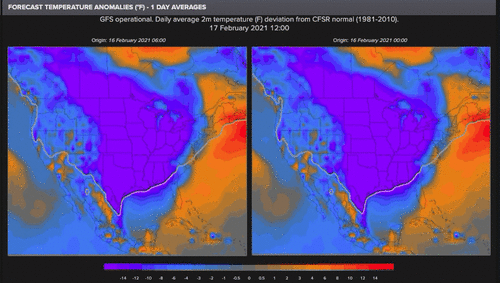 ERCOT wholesale electricity prices topped the grid's price cap of $9,000 per megawatt-hour several times in the overnight session. Reminding readers, ERCOT prices are usually around $25/MWh.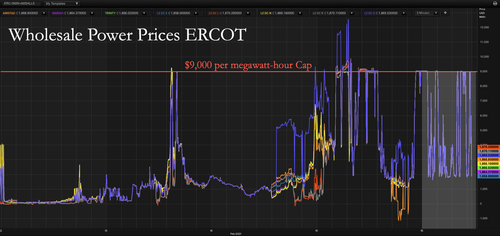 Meanwhile, rolling blackouts have set off a chain reaction of problems. RT News reports "some water treatment plants and cell phone networks" are offline.
…
Cellular networks started to go offline as "backup generators at towers are freezing or running out of fuel or both," tweeted County Judge KP
…
Governor Greg Abbott wrote on Twitter that "Texas power grid has not been compromised." However, millions of Texans are unhappy with his response to the grid crisis that has sparked chaos across the state. He deployed National Guard troops to assist the state in relief efforts.
Living in Texas sounds like a third-world country. Here's a tweet from Dallas County Judge Clay Jenkins:
"The additional shed coupled with increased demand will likely increase blackout numbers and times. We should discuss how Texas let this happen. I understand your anger. I'm angry too. But tonight-right now- is about human and animal survival. Check on and help one another!"
President Joe Biden declared an emergency on Monday for the Lone Star State, where temperatures in some areas hovered near zero.
The freeze also took a toll on the state's energy industry, the country's largest crude refinery shuttered operations on Monday. Over the weekend, natural gas pipelines had restricted flow as wellheads froze.
… and the worst might not be over as a second winter storm could batter the state by midweek. 221,9592,546
References:
Hajra, R. (2021). Weakest solar cycle of the space age: A study on solar wind–magnetosphere energy coupling and geomagnetic activity. Solar Physics, 296(2). doi:10.1007/s11207-021-01774-9